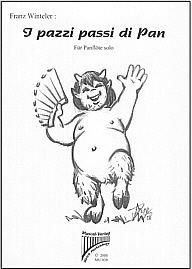 MU 039/Euro 9,00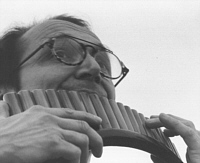 Franz Winteler, Swiss citizen, is a very versatile musician. He plays violin, guitar, double bass and since 1978 also the panflute. In 1977 he completed his musical education at the Conservatorium and Music-University Zurich with the diploma for double bass.
Franz Winteler is a freelance musician and especially known as concert soloist. With the same passion he is composing, conducting and accompanying. The multi-instrumentalist feels comfortable in classical music, as well as in folk-music and in jazz.
Winteler already gave several concerts with the panflute - in the beginning mainly with church organ, later also with guitar, piano or chamber orchestra. He composed many pieces for the panflute and different instrumentation, and he also successfully composed pieces for other instruments. His pieces are popular for several folk-music groups and other ensembles and they are performed regularly.
About the present composition Winteler says:
I PAZZI PASSI DI PAN originated in an encounter with the jazz I am already engaged with since decades, though firstly only with the double bass, however later more and more also on the panflute. The title refers to a review in a Zurich newspaper about a jazz concert that culminated in the following remark: "Nowadays God Pan would play the saxophone to reach his goals". This remark was a challenge for me.
Foto : Fridolin Walcher
www.fridolinwalcher.ch




Order


Top