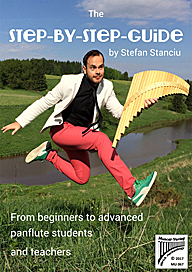 MU 067
Price incl. tax: Euro 35,00
Sound-Samples:
1 - 2 - 3 - 4

Sheet-Sample / pdf:
1 - 2 - 3 - 4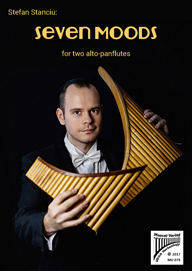 MU 079
Price incl. tax: Euro 16,00
Video-Sample YouTube :
1 - 2 - 3 - 4 - 5 - 6 - 7 - 8

Sheet-Sample / pdf:
1 - 2 - 3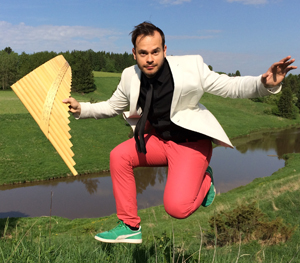 Stefan Stanciu
I started to play the panflute at the age of seven and released my first album already at the age of eight with a Finnish publishing and broadcasting company. I released my first four albums with the same company and was invited to perform in many TV programs as panflute soloist. As time passed, I came to be known as "Stefan – the little panflutist". I became famous partly because I performed as a guest star in TV programs and concerts and partly because of my albums. I published six albums during my school years and performed in hundreds of concerts. As explained in the prologue of this book, accompaniments and rhythmic synthesizers were important in my pedagogical training, which is why I felt it was important to add chords to most of the works in this book.
Nowadays me and my music are known not only among the people who love schlagers and popular tunes but also by the classical audience. My repertoire is very wide. I play in ensembles and bands every now and then, but also as soloist for example in symphony orchestras both in Finland and abroad. My performances have taken me to France, Romania, Spain, Austria, Singapore and Holland, to mention but a few.
Traditionally, the panflute has not been included in the official educational program of music in Finland. I began my education as a flautist and oboist. I majored in the oboe at the Helsinki Conservatory, the panflute being accepted as my additional soloistic subject. In 2003, I passed the soloistic examination in panflute. It was the first time the panflute was accepted as an instrument for professional studies exam in Finland.
In 2007, I graduated from Stadia (nowadays Metropolia), the college of music at Helsinki Polytechnics, as oboe and panflute pedagogue. I was simultaneously concluding my studies at the University of Jyväskylä. My master thesis focused on determining which parts of the classical repertoire composed for other instruments are technically and musically possible to play with the panflute. In 2008, I graduated from the University of Jyväskylä, Department of Musicology as Master of Arts (filosofian maisteri).
In 2012, I enrolled to a Master's Degree Program at Sibelius Academy, the Department of Folk Music. My ambition is to learn to play archaic instruments, improve my knowledge in the roots of Nordic archaic music and do research on whether the panflute works as an instrument to perform and interpret Finnish and Scandinavic folk music. I was, and still am, particularly interested in combining folk music with modern electronic music. I graduated from Sibelius Academy in December 2014 as Master of Arts (musiikin maisteri).
In addition to teaching the panflute and working as freelance musician, I have been working since 2009 as Oboe and English horn player at the Helsinki Police Band, a professional wind orchestra, where I occasionally have the pleasure of playing as the panflute soloist.
Besides all this, I am continuously extending my classical, electronical and folk musicrepertoire and performing regularly with various folk and classical music ensembles.
Find out more about me and my music at WWW.STEFAN.FI





Order


Top